Products today purchased from this website:
,
Turkey Call Pulley
Primos 263 Hot Box Turkey Call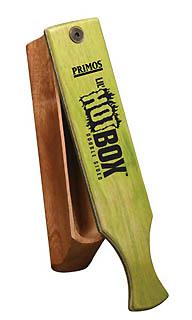 Lil Hot Box -
Manufacture ID: 263
Get that gobbler fired up with a strike from the Lil' Hot Box! You'll be blown away that a sound so crisp and clear could be made out of a box call that is so small. The Lil' Hot Box is crafted from a solid piece of Mahogany and the paddle is made from a Custom Laminate wood that adds to the feel and sound of this call. If you have ever wanted a small box call that you could just grab and go then the Lil' Hot Box is the call for you.
Features:
- Mahogany Box with Custom Laminate Lid
- Double-Sided Box
Altus Brands C969 Cass Creek Turkey Call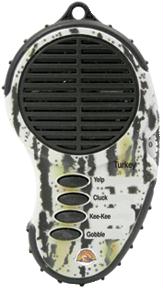 Auto shut-off (2-minutes) so you wont drain the batteries natural bark camo finish Easy-to-use one hand push button operation 5-different calls in one (for every species) external speaker/headphone port Ergonomic design for easy one hand operation convenient belt clip handy on/off thumb dial for easy volume regulation sure-hold rubberized grip lightweight and easy to carry water resistant design. Operates on 3 AAA bateries (included).
CLUCK - A low volume note or series of notes used as small talk between turkeys establishing location.
YELP - A louder call or series of repetitious notes beckoning for other turkeys to come.
ASSEMBLY CALL - Usually made by an adult hen calling her clutch and other turkeys.
KEE-KEE- Used mainly by young turkeys to reassemble or used by a lost turkey trying to find the flock.
PURR - A confidence call used during feeding close range and group talk.